alley starting to close? Don't muscle your way into someone else's game; you'll just wind up hurting yourself. Instead, come play with us as we talk about the third episode of MARVEL'S DAREDEVIL!
Josh Wigler (@roundhoward) and Kevin Mahadeo (@kevmahadeo) dive into episode three of the new Netflix series, titled "Rabbit in a Snow Storm." At long last, the show has finally introduced us to the big man pulling the strings behind Union Allied and all the other nefarious villains we've met so far… and he's kind of a teddy bear?
What do Josh and Kevin make of weepy Wilson Fisk? And what are their thoughts on how the episode's final fight between Matt Murdock and Healy upped the ante in terms of violence? And which one of them is right as far as their Legends of the Hidden Temple allegiance is concerned? Find out all those answers and more in this week's episode, and let us know what you think in the comments section below or by using the feedback form.
Josh and Kevin will return tomorrow for a recap of DAREDEVIL episode four.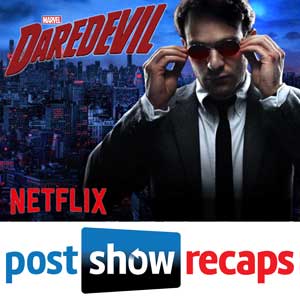 Subscribe to Post Show Recaps to stay on top of all things Daredevil.[/caption]
Subscribe to Post Show Recaps