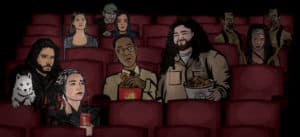 About Post Show Recaps
When your favorite TV shows are over, we're just getting started providing topical, insightful and fun discussions on the latest episodes and films that everyone is buzzing about.
Post Show Recaps was originally started in 2014 by Rob Cesternino (@RobCesternino) and The Hollywood Reporter's Josh Wigler (@RoundHoward). Since then, the mission has remained the same: providing top quality analysis and antics centering on the best and biggest stories around, from television to film and beyond.
A proud part of the PodcastOne Network and the 2016 winner of the Best TV & Film podcast at The People's Choice Podcast Awards, Post Show Recaps dives deep into a wide range of topics, including but not limited to:
• Lost, with Wigler and co-host Mike Bloom (@AMikeBloomType) reevaluating the celebrated series in their spoiler-filled recap podcast Lost: Down the Hatch;
• The Marvel Cinematic Universe and other superhero stories in the form of Everything is Super, hosted by Wigler and Kevin Mahadeo (@KevMahadeo);
• The Walking Dead, with Wigler and Jessica Liese (@HaymakerHattie) serving as tour guides through the zombie apocalypse;
And more!
---
About Rob Cesternino
Rob is the creator of the Reality TV podcast "Rob Has a Podcast" and the "Reality TV RHAP-ups" network.  Rob's podcasts have been decorated with 6 People's Choice podcast awards since 2012.  In addition, Rob is also a two-time Survivor loser.
---
About Josh Wigler
Josh Wigler is a writer, editor and podcaster who has been published by The Hollywood Reporter, MTV News, New York Magazine and more. Josh's podcasts cover a wide range, from nostalgic throwbacks to Lost, dispatches from reporting on the front lines of Game of Thrones and The Walking Dead, and much more.