Pick up the phone and answer our call already, unless you're currently on the receiving end of Karen Page's wrath! It's the DAREDEVIL podcast, covering the antepenultimate episode of season one!
Josh Wigler (@roundhoward) and Kevin Mahadeo (@kevmahadeo) pour one out for the show's first series regular death, and speculate on what the death could mean moving forward for a variety of characters, Wilson Fisk and Karen Page included. Plus, Matt Murdock makes strides in his efforts to clean up his act — and add a new costume to his repertoire, too.
Only two episodes left! Tell us what you think of our daily DAREDEVIL coverage in the comments below or through our feedback form!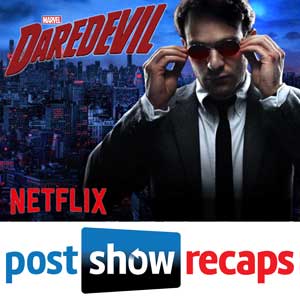 Subscribe to Post Show Recaps to stay on top of all things Daredevil.[/caption]
Subscribe to Post Show Recaps