Listen to the Podcast:
Podcast (psr-feed): Download (Duration: 1:16:13 — 35.3MB)
Game of Thrones Season 6 Halftime Show with Jason Somerville
Josh Wigler (@roundhoward), Rob Cesternino (@robcesternino) and Jason Somerville (@jasonsomerville) have come together like the Maesters at Oldtown to bring you a recap and analysis of the show so far, where we've come since this season began, and Jason's takes on the series as a whole, directly from "Riverun-It-Up-Reno!"
Post any questions, thoughts or comments in the comments section below OR on Twitter, using the hashtag #PSRecaps.
We also host a weekly Game of Thrones feedback show, for which we are always looking to get listener questions/comments/thoughts. Call and leave voicemails by going to Postshowrecaps.com/voicemail.
Watch our Recap of "The Door"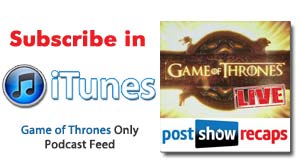 Subscribe: Game of Thrones Podcast in iTunes | Game of Thrones Podcast RSS Feed
---
Subscribe to
Post Show Recaps: TV Podcasts | Rob Cesternino & Josh Wigler
Or subscribe with your favorite app by using the address below