Freddy's BBQ Joint plays a big role in Frank Underwood's life in the House of Cards world. Freddy's is the restaurant where Frank can get away from the cutthroat world of Capitol Hill politics and immerse himself in some delicious slow-cooked (and slow-bled) pork.
As a resident of Washington DC's Capitol Hill neighborhood, I felt it was my job to find the inspiration for Freddy's BBQ Joint. While the show never makes it clear that Freddy's is on Capitol Hill, I've walked past a few places that look pretty similar. Based on some initial research, the actual storefront the House of Cards production team uses to film Freddy's is an empty store in Baltimore. I don't get the impression that Frank is traveling all the way from DC to Baltimore to get Freddy's ribs, no matter how tender they are.
My friend Brendan, my brother Aaron and I set out one Saturday afternoon to find the spicy, saucy meats. Our Capitol Hill BBQ tour was supposed to visit 3 neighborhood meat joints. The first stop worked out, but we hit a few hurdles visiting the other two shops.
Stop #1: Kenny's BBQ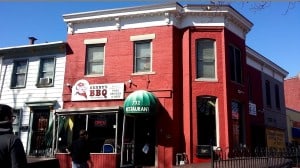 Kenny's BBQ[/caption]
Our first stop and I think we've found the inspiration. A small hole in the wall bbq and smoked meats shop. Kenny's has a great looking menu, amazing smells and even a picture of Obama when he visited there. Best of all, the salad section of menu had a sign alerting customers they no longer serve salads. Meat heaven!
We split the large sampler platter and had more than enough food for even Man vs. Food's Adam Richman. The platter came with 3 ribs, pulled pork, sliced beef, a quarter chicken, cornbread, two sides (we got collard greens and mac & cheese) and a small bucket of hot bbq sauce.
Everything was delicious. The sauce a little sweeter than I usually like my bbq sauces, but the meat was cooked really well. It was the perfect amount of food for us and for just over $15, it was really affordable for three people. The only item we didn't enjoy was the dry piece of cornbread. I think cornbread is a really tough food to master, usually it comes out dry and crumbly, but this was particularly cardboard-like. But just 1 bad item out of 7 is really not too bad.
I think based on the name, food, atmosphere, pictures of political figures and proximity to the capitol, it's clear Kenny's BBQ was the inspiration for Freddy's BBQ Joint.
Stop #2: Inspire BBQ
Our second stop on the tour didn't go as well as planned. We walked a few blocks north of Kenny's to a newer BBQ restaurant. Even though this restaurant was supposed to be open until 7pm on Saturdays, they were inexplicably closed. So that was  bust. Guess Inspire QQB didn't inspire House of Cards.
Stop #3: Mr. Ps Chicken and Ribs
Another fail! This time, I had the address wrong and I thought Mr. P's was right around the corner. Unfortunately it was a few miles away and not accessible by Washington DC's metro. I'd like to try Mr. P's at some point, but that day was not the day.
By default, Kenny's was the closest to Freddy's BBQ Joint, but I still feel it had a big impact on the show's creators. While it wasn't an exact replica of the restaurant from House of Cards, I can see a number on congressional leaders visiting the shop to get lunch or dinner. The food was great and I will definitely go back for smokey meat soon.