Hey, big guys! Sun's getting real low. Better listen to a podcast!
Josh Wigler (@roundhoward) calls upon his Daredevil podcast partner Kevin Mahadeo (@kevmahadeo) and Comic Book Resources associate editor and In Your Face Jam columnist Brett White (@brettwhite) for a mighty recap of Marvel's mightiest movie, AVENGERS: AGE OF ULTRON.
Listen in as Josh, Kevin and Brett talk about their take on Joss Whedon's second (and final?) Marvel movie, their favorite moments from the movie, their predictions for where the Marvel Cinematic Universe will go in phase three, and much more. Plus, they answer your burning questions about all things Avengers.
Let us know what you thought of AGE OF ULTRON and our podcast in the comments below or by hitting us up through our feedback form!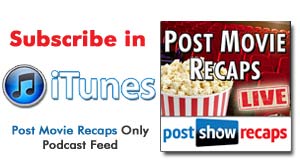 Subscribe to Post Show Recaps