Welcome to the red room of podcasting pain!
With FIFTY SHADES OF GREY in theaters this Valentine's Day weekend, Josh Wigler (@roundhoward) invites his valentine and wife Emily (@emelette) onto Post Show Recaps for the first time, to recap the controversial new movie.
Emily, a recent survivor of the FIFTY SHADES reading experience, primes Josh on what to expect from the new movie. Thirty minutes into the podcast, they press pause, and go off to see the film. They resume the podcast once they return from the movie, and the remaining discussion includes their thoughts on everything including the chemistry between Jamie Dornan and Dakota Johnson as Christian Grey and Anastasia Steele, the vanilla sex scenes and the sexy sex scenes, the contract negotiations between Christian and Ana, the funniest scenes of the movie, and much more. Perhaps TOO much more.
So strap yourselves in, bite your lip, and remember the safe word as we embark on the most sensual podcast in Post Show Recaps history. Happy Valentine's Day, everyone!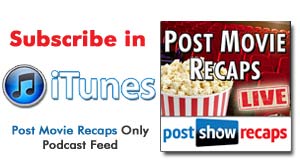 Subscribe to Post Show Recaps