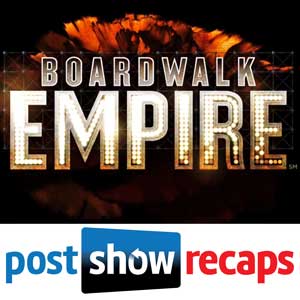 Subscribe to the Boardwalk Empire Podcast Feed in iTunes[/caption]
Antonio Mazzaro (@acmazzaro) and Jeremiah Panhorst (@jpanhorst) recap episode 1 of the final season of HBO's Boardwalk Empire, "Golden Days of Boys & Girls".
Show Notes:
The Flashbacks
What did we think of the actors playing the younger versions?
Did John Ellison Conlee sounding like Dabney Coleman?
Did Nucky learn to love Horatio Alger, Jr. (Ragged Dick) work after reading Golden Boys for Boys and Girls?
Is this a good start for helping us care about Nucky?
Havana Cuba
Nucky and Sally are making plans for the future with the Bacardi family
Sally and Nucky still together after all this time, surprised?
Was Lansky involved in the attack against Nucky?
 Chalky in a chain gang
We loved the grey look they gave Chalkys world
Chalky escapes with another inmate who needs someone to answer phone calls?
Brooklyn
Subscribe to Post Show Recaps