Antonio Mazzaro (@acmazzaro) and Jeremiah Panhorst (@jpanhorst) recap episode 2 of the final season of HBO's Boardwalk Empire, "The Good Listener".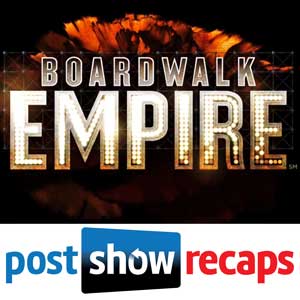 Subscribe to the Boardwalk Empire Podcast Feed in iTunes[/caption]
Show Notes:
Chicago
• Things look rough for Eli in Chicago.
• Did the spinning images help tie the Thompson brothers stories together?
• Did we like the Eli and Mueller team?
• Was it a bad idea for Eli and George take money from Al Capone to pay back the 20 thousand?
• Elliot Ness declares war on Al Capone.
• Mike D'Angelo, has gone deep undercover into the Al Capone's organization. Will he take down Capone?
New York
• Nucky visits Johnny Torrio in NY. Is Johnny really retired?
• Willie Thompson wants to be a prosecutor. What does this mean for Willie's character? Will he take down Nucky?
• Nucky may get help from Joe Kennedy
• Nucky forces Tonino to tell him it was Lansky and Luciano that wanted him killed and then Nuch get's revenge for Billie Kent's murder.
1884
• Susan has passed
• Ethan sold land to the Commodore, what happened with that story?
• What are we learning about Nucky's character?
Mental Institute
• How crazy is Gillian?
• Gillian trades a dress for letter making materials. Did we think it was going to be a sex trade?
• Who is she writing to?
• Where are they going with this story and do we care?
Subscribe to Post Show Recaps