Get in on our daily DAREDEVIL podcast, before the door slams!
Josh Wigler (@roundhoward) and Kevin Mahadeo (@kevmahadeo) hit day four of their conversation about Marvel and Netflix's new show, and today, it's all about Wilson Fisk — or, at least, A LOT about Wilson Fisk. The Kingpin finally makes his mark in episode four, "In the Blood," and what a mark it is. Who knew car doors could be such lethal instruments of death?
While Wilson attempts to woo art dealer Vanessa, Matt Murdock finds himself further entangled with nurse Claire — and while they certainly have a night out on the town, it's far from a date.
Let us know what you think of the fourth episode of DAREDEVIL in the comments section below or by reaching out to us through our feedback form.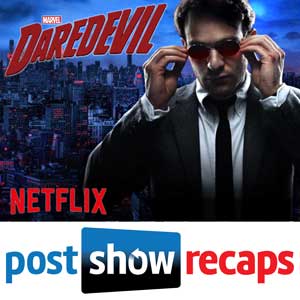 Subscribe to Post Show Recaps to stay on top of all things Daredevil.[/caption]
Subscribe to Post Show Recaps