Don't seek penance for what you've done, seek forgiveness for what you're about to do — and that's listen to two nerds talk about the very first episode of MARVEL'S DAREDEVIL!
Josh Wigler (@roundhoward) and Kevin Mahadeo (@kevmahadeo) break down the series premiere of Marvel and Netflix's new superhero series. The episode, called "Into the Ring," introduces the world to Matt Murdock, attorney by day and vigilante by night. We also meet his law partner Foggy Nelson, his first client (and potential love interest) Karen Page, and a whole bunch of villains — but not THE villain.
Check back tomorrow for Josh and Kevin's recap of DAREDEVIL's second episode. In the meantime, leave your questions and reactions in the comments section below, or by reaching out through ourfeedback form.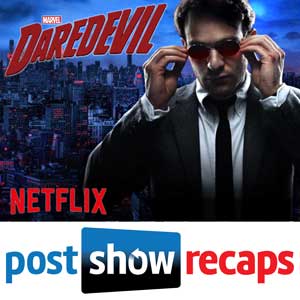 Subscribe to Post Show Recaps to stay on top of all things Daredevil.[/caption]
Subscribe to Post Show Recaps