Wilson Fisk, you are an extraordinarily mean man.
The Kingpin kills one of Josh Wigler (@roundhoward) and Kevin Mahadeo's (@kevmahadeo) favorite characters in the penultimate episode of Marvel's new Netflix series, DAREDEVIL, and your friendly neighborhood podcasters are none too pleased. Hear what they have to say about the shocking death in "The Ones We Leave Behind," as well as some of the other surprise twists and Easter eggs hidden in the Madame Gao storyline.
Let us know what you think of the penultimate DAREDEVIL podcast in the comments section below or by contacting us through our feedback form.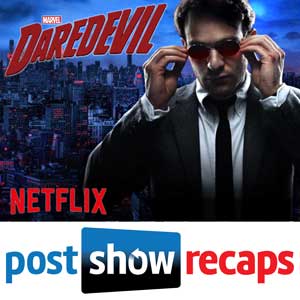 Subscribe to Post Show Recaps to stay on top of all things Daredevil.[/caption]
Subscribe to Post Show Recaps