The shifting of bones sounds like an old ship, and the flapping of gums sounds like our daily DAREDEVIL podcast!
Josh Wigler (@roundhoward) and Kevin Mahadeo (@kevmahadeo) continue their march through Marvel's new Netflix series, one episode and one day at a time. Today, it's all about episode five, "World on Fire," which ends with Matt Murdock in a very bad position. Frankly, it ends with all of Hell's Kitchen in a very bad way, as Matt's world quite literally goes up in flames.
Let us know what you think of our daily DAREDEVIL podcast in the comments section below or by using the feedback form!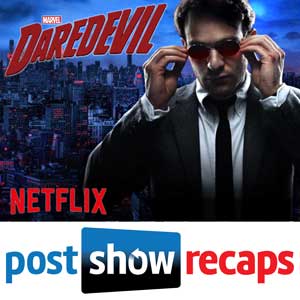 Subscribe to Post Show Recaps to stay on top of all things Daredevil.[/caption]
Subscribe to Post Show Recaps