Podcast Recap of Fear the Walking Dead Season 2 Episodes 1 & 2 "Monster" & "We All Fall Down" on April 10th & April 17th, 2016.
Rob Cesternino (@robcesternino) and Josh Wigler (@roundhoward) upack everything from the first two episodes of the second season of AMC's new Walking Dead spin-off series, Fear the Walking Dead, covering Episode 1, "Monster" and Episode 2, "We All Fall Down."
Post your questions about the episode in the comments below.
Let us know your thoughts below in the comment section or on twitter using the hashtag #PSRecaps.
Also we have our feedback show on Thursday. Call and leave your voicemails by going to Postshowrecaps.com/voicemail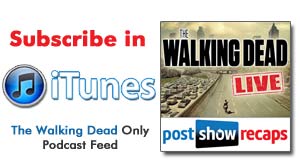 Subscribe to our THE WALKING DEAD only audio-podcast feed on iTunes[/caption]
Subscribe: Walkind Dead Podcast in iTunes | Walking Dead Podcast RSS Feed