The final episode of FEAR THE WALKING DEAD season one, called "The Good Man," is over, but we're just getting started ripping it apart with a helicopter blade here on Post Show Recaps!
Rob Cesternino (@robcesternino) and Josh Wigler (@roundhoward) are here to break down the season finale, from the massive zombie outbreak to any and all casualties incurred along the way.
Rob strikes first in the death draft with the death of Liza, and our crew finds out that there is no cure. How will this information change the outlook of Travis and co?
What is the deal with Strand? Is he a good guy? Bad guy? Are his motives pure? How long can a group of 7 last on a boat in the middle of the ocean? Will they incorporate zombie pirates?
Is Travis pulling out his inner Rick when he beat down Army Douche? And how does somebody make it through army training and only manage to inflict a flesh wound on Ofelia at such a close range?
Rob and Josh discuss all of this and answer your questions. As always, let us know what you thought of the show in the comments section below, and join them back here next week as The Walking Dead returns.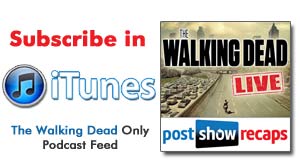 Subscribe to our THE WALKING DEAD only audio-podcast feed on iTunes[/caption]
Subscribe: Walking Dead Podcast in iTunes  |  Walking Dead Podcast RSS Feed
Subscribe to Post Show Recaps