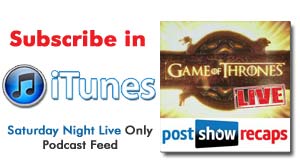 Subscribe to our Game Of Thrones ONLY Podcast Feed in iTunes[/caption]
Rob Cesternino and Josh Wigler try and answer all of the listener questions that came in on our Game of Thrones feedback show. In this episode Rob and Josh discuss:
What is the difference between Casterly Rock and Lannisport?
What is the correct pronunciation of Cersei?
Where has Varys been in Season 4 of Game of Thrones?
Was putting the kingdom deeply into debt all part of Littlefinger's plan since he was "master of coin" when the series began?
Has Jojen Reed finally started to be a more interesting character in the show?
How come we haven't seen more of Daenerys' dragons this season?
So was Littlefinger really behind the assassination attempt of Bran in Season 1? (Note from Rob: I was thinking about this after the show so if you're reading this can somebody please discuss this for me in the comments.  The attempt to kill Bran made a lot of sense to us the viewers because we saw Jaime push Bran out the window and know that Jaime and Cersei can't have Bran tell on them.  However, since nobody in the show except for Jaime and Cersei knew what Bran saw it's just an amazing coincidence that they were getting framed for a murder that nobody knew they had a motive to commit.)
Will the Craster's Keep storyline continue to have any more to do with the plot?
Are the Lannisters broke or is the kingdom just broke?
What has been the greatest duel in the history of the show?
How many children does Prince Oberyn actually have?
Is Lady Olenna going to be making an escape from King's Landing any time soon
Will we ever see another appearance of Arya's direwolf?
Be sure to join us LIVE on Sunday Night after this week's episode for GAME OF THRONES LIVE at 10:15 pm ET / 7:15 pm PT
Watch Rob & Antonio recap "First of His Name":
Subscribe to Post Show Recaps