Josh Wigler (@roundhoward) and Terri Schwartz (@terri_schwartz) return for another installment of the Game of Thrones Book Club podcast — and this time, it's a heavy emphasis on "book club."
In this episode, Josh and Terri dig into "The World of Ice and Fire," the massive coffee table book released in October by George R.R. Martin, co-authored by Elio M. García Jr. and Linda Antonsson of Westeros.org. The book chronicles the sprawling histories, characters and cultures throughout the Seven Kingdoms of Westeros and well beyond.
It's an epic book in size and scope, and both Josh and Terri consider it a must-read for anyone obsessed with the world of "Ice and Fire." The podcast explains why, complete with a deep-dive into an empowered and controversial theory about Tyrion Lannister's lineage, Princess Nymeria of the Rhoyne and her Ten Thousand Ships, the tumultuous Targaryen legacy, the presence of an oily black evil in and outside of Westeros, a closer look at Asshai-by-the-Shadow, and much more.
Plus, find out what Josh and Terri have planned for their next installment of the Game of Thrones Book Club!
ADDITIONAL READING:
Co-authors Elio M. García Jr. and Linda Antonsson's Reddit AMA:
http://www.reddit.com/r/asoiaf/comments/2kgfy7/spoilers_all_ama_with_authors_of_the_world_of_ice/
BoiledLeather.com's Sean T. Collins on the existence of Deep Ones in Westeros:
http://boiledleather.com/post/102637571223/the-world-of-ice-and-fire-thoughts-what-we-talk-about
Too Many Cooks:
https://www.youtube.com/watch?v=QrGrOK8oZG8
Subscribe to Post Show Recaps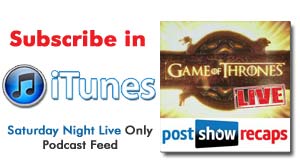 Subscribe to our
Game Of Thrones
ONLY Podcast Feed in iTunes[/caption]