Welcome to the Game of Thrones Book Club, the Post Show Recaps podcast that talks about HBO's Emmy-winning series from the perspective of those who have read George R.R. Martin's A Song of Ice and Fire novels and related material. You are listening and proceeding further at your own risk.
This week, Terri Schwartz (@Terri_Schwartz) is busy traveling around Middle-Earth, so Josh Wigler (@roundhoward) is joined by guest host Jessica Liese (@HaymakerHattie), the co-founder of Post Show Recaps' Walking Dead Book Club. Jess gives her overall take on the current season (spoiler alert: she likes it a lot) before diving into all the specifics from this past episode, including Jon and Sansa's reunion, crackpot theories about the Greyjoys and Targaryens, and much more — including Tormund Giantsbane and Brienne of Tarth's blooming romance. The Good Ship GiantsBrienne is about to set sail, everyone, and Jessica Liese is your captain.
Send questions for the next Book Club using our feedback form, over e-mail, or by tweeting at Josh and Terri.
---
 Subscribe to our Game of Thrones Podcast: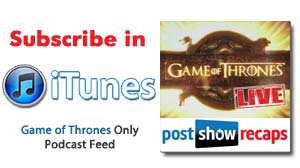 Subscribe to the Game of Thrones Podcast in iTunes[/caption]
Subscribe: Game of Thrones Podcast in iTunes  |  Game of Thrones Podcast RSS Feed
---