SPOILER ALERT!
CONTENT WARNING!
Listen to the Podcast
Podcast (psr-feed): Download (Duration: 1:03:21 — 43.5MB)
Josh Wigler (@roundhoward) and Terri Schwartz (@terri_schwartz) return with week seven of their GAME OF THRONES BOOK CLUB season five coverage, talking about all the major events of "The Gift." Josh and Terri talk about Daenerys and Tyrion's first meeting of the minds, the drama in Dorne, the fallout of Sansa in Winterfell, Cersei's arrest in King's Landing, Sam's big night at the Wall, and much more.
SPOILER WARNING: The GAME OF THRONES BOOK CLUB podcasts are meant for people who have read George R.R. Martin's novels that HBO takes its cues from. Proceed with caution!
Subscribe to Post Show Recaps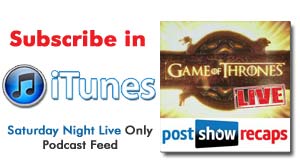 Subscribe to our
Game Of Thrones
ONLY Podcast Feed in[/caption]