SPOILER ALERT!
Watch this LIVE event on YouTube    |    RSVP for this and future LIVE Book Clubs
Josh Wigler (@roundhoward) and Terri Schwartz (@terri_schwartz) kick off the first week of their GAME OF THRONES BOOK CLUB season five coverage, beginning the premiere episode, "The Wars to Come." Join Josh and Terri live to ask them your questions and send your comments about the season premiere, and what we expect to see in the episodes ahead.
SPOILER WARNING: The GAME OF THRONES BOOK CLUB podcasts are meant for people who have read George R.R. Martin's novels that HBO takes its cues from. Proceed with caution!
Subscribe to Post Show Recaps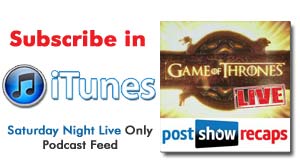 Subscribe to our
Game Of Thrones
ONLY Podcast Feed in iTunes[/caption]