All aboard the Choo Choo train! Josh Wigler (@roundhoward) and Antonio Mazzaro (@acmazzaro) are back to dig into the CASH GAME at the heart of the second episode of JUSTIFIED season six.
In the episode, Raylan Givens follows a lead on the First River Bank robbery, resulting in an encounter with a massive man who calls himself Choo Choo. Meanwhile, Boyd Crowder struggles with what to do with the documents he's stolen, and his continued strained relationship with Ava, who is struggling with demons of her own. The episode also gives a name to Garrett Dillahunt's menacing real-estate hunter, and introduces us to a mustache-free Sam Eliot as a new threat named Avery. (Thankfully, someone else has picked up the mustache in Sam's place.)
In their recap, Josh and Antonio run through the entire episode and also toss out some pet theories of their own, including what the arrival of Choo Choo could mean for Tim Gutterson, the lingering presence of Dewey Crowe's necklace, and much more.
Make sure you don't miss an episode of the JUSTIFIED podcast by subscribing to our iTunes feed and RSS feed. Get your questions in for next week's show at postshowrecaps.com/feedback.
SHOW NOTES:
Bourbon And Justified
http://whiskeyreviewer.com/2015/01/bourbon-and-justified_012615/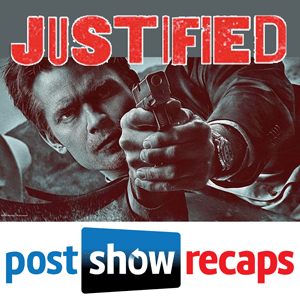 Justified returns with the 6th and final season Jan 20th on FX.[/caption]
Subscribe to Post Show Recaps