The choo-choo train has come to a stop, but we're just getting started here on the JUSTIFIED podcast at Post Show Recaps!
Josh Wigler (@roundhoward) and Antonio Mazzaro (@acmazzaro) team together to talk about season six episode six, titled "Alive Day." It's an interesting title, because — SPOILER ALERT — it just so happens to be Choo Choo's dead day. Josh and Antonio pour one out for the unexpected breakout character of season six, talking about where everything went wrong for the big lug.
"Alive Day" moves several other pieces into interesting spots on the board, including a new nemesis for Boyd, new cracks in Avery Markham's delicate operation, and a big bombshell of bad news for Ava Crowder. But it's not an entirely neat package, either; for the first time in a very long time, Josh and Antonio have a bone or two to pick with JUSTIFIED.
Come for the Pizza Portal party, stay for the Disney tunes, and send us your questions and comments on Twitter @postshowrecaps, through our feedback form, or the comments section below.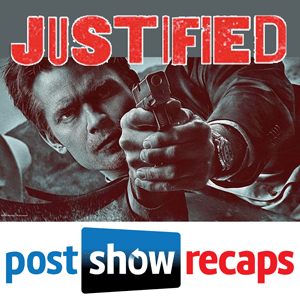 Justified returns with the 6th and final season Jan 20th on FX.[/caption]
Subscribe to Post Show Recaps