Head straight to the end zone and do the Ickey Shuffle, because it's time to talk about the latest episode of JUSTIFIED!
Boom goes the dynamite right underneath a bank vault in a pizza shop, as Josh Wigler (@roundhoward) and Antonio Mazzaro (@acmazzaro) recap the latest episode of the FX drama's final season. In the episode, "Burned," Boyd Crowder nearly lives up to the episode title, while Raylan Givens confronts Ava Crowder on where her true loyalties lie. A new enemy enters the mix in the form of gunslinging Boon, a new side of Wynn Duffy emerges for only authorities and viewers to see, and Avery Markham prepares drastic measures against an unexpected foe: Loretta McCready.
After this week, only four episodes of JUSTIFIED remain. Stick with us and get your questions and comments along in the space below, through our feedback form, or by hitting us up on Twitter @PostShowRecaps.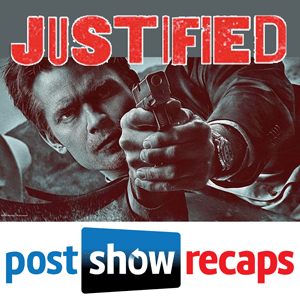 Justified returns with the 6th and final season Jan 20th on FX.[/caption]
Subscribe to Post Show Recaps