The JUSTIFIED podcast heads for the hills, as Josh Wigler (@roundhoward) and Antonio Mazzaro (@acmazzaro) recap the penultimate episode of the series, "Collateral."
In today's podcast, Josh and Antonio discuss the converging paths of Raylan Givens, Boyd Crowder, Ava Randolph and Avery Markham; like the aligning of the planets, if those planets carried guns and hated Wynn Duffy's guts. As the final season of JUSTIFIED draws to a close, so many obstacles remain up in the air. Will any of these gunslingers leave Harlan alive? We'll find out in one week.
Send all your thoughts about the episode along to us on Twitter, through our feedback form, and in the comments section below.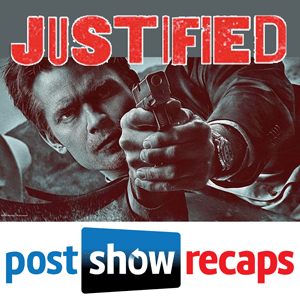 Justified returns with the 6th and final season Jan 20th on FX.[/caption]
Subscribe to Post Show Recaps