Don't be shy! Step inside our fraidy hole and listen to this week's JUSTIFIED podcast on Post Show Recaps!
Josh Wigler (@roundhoward) and Antonio Mazzaro (@acmazzaro) meet up in person for the very first time (other than that one time in Upstate New York, but we don't talk about that), at Brooklyn's Pine Box Rock Shop, to discuss the latest episode of JUSTIFIED, titled "Dark as a Dungeon." Josh and Antonio sip on whiskey in a bar as they talk about the whiskey-soaked heroes and villains populating the JUSTIFIED universe, including the increasingly antsy Raylan Givens, the tremendously tempted Boyd Crowder, the conflicted Ava Crowder, the guacamole-loving Wynn Duffy, the late Ty Walker, and the even later Arlo Givens.
Let us know what you think of this week's show by hitting the comments section below, reaching out to us on Twitter @PostShowRecaps, and leaving us a note through our feedback form.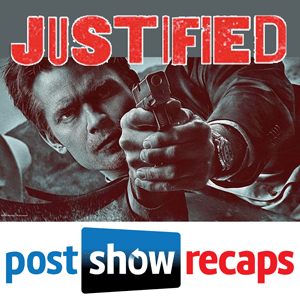 Justified returns with the 6th and final season Jan 20th on FX.[/caption]
Subscribe to Post Show Recaps