The search for Ava Crowder is officially underway, as is the final stretch of the JUSTIFIED podcast here on Post Show Recaps!
Josh Wigler (@roundhoward) and Antonio Mazzaro (@acmazzaro) talk about the third-to-last episode of JUSTIFIED ever, called "Fugitive Number One." Is this the best episode of the entire series? One of our hosts suggests that idea, and you'll find out why! Best episode or not, it certainly rocked, what with a certain scene in Wynn Duffy's trailer, Boyd Crowder's brief stay at the hospital, and a whole lot of vintage Raylan Givens.
Let us know your thoughts on the latest JUSTIFIED episode and podcast in the comments below, on Twitter, or by contacting us through our feedback form.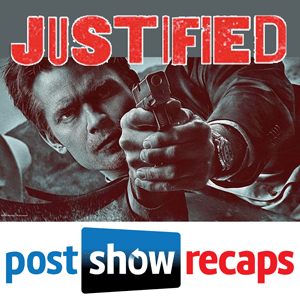 Justified returns with the 6th and final season Jan 20th on FX.[/caption]
Subscribe to Post Show Recaps