Josh Wigler (@roundhoward) and Antonio Mazzaro (@acmazzaro) just spent an entire night drinking the good bourbon and wearing cheerleader uniforms, and the result is this week's JUSTIFIED podcast!
This week, Josh and Antonio are talking about episode three of season six, "Noblesse Oblige." The episode sees Raylan Givens and Rachel Brooks looking into Boyd Crowder's explosives supply, with Raylan making some unique threats and learning a thing or two about fatherhood along the way. In Boyd's world, the little Crowder that could meets Avery Markham, the big bad wolf with a bad opinion of bourbon. As Boyd meets his new match, Ava makes some choices in her conflicting loyalties to Raylan and Boyd, but the jury remains out on where she truly lies.
And that's not even mentioning Wynn Duffy's thong.
Even if the smell of bourbon turns something inside you sour, you're certain to love this week's podcast. Send any questions, comments and shots our way on Twitter, in the comments below, or using the Post Show Recaps feedback form.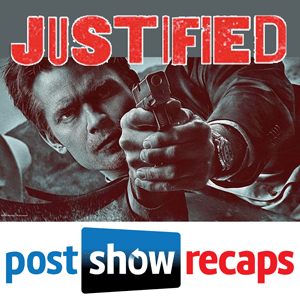 Justified returns with the 6th and final season Jan 20th on FX.[/caption]
Subscribe to Post Show Recaps