Josh Wigler (@roundhoward) and Antonio Mazzaro (@acmazzaro) are back to discuss the first season of JUSTIFIED, the FX drama about U.S. Marshal Raylan Givens and his gunslinging adventures through Harlan County.
In season one, Raylan returns home to Harlan and encounters several ghosts from his past, including career criminals like Boyd Crowder, a man Raylan worked with in the coal mines when they were teenagers; Arlo Givens, Raylan's manipulative father; Ava Crowder, a shotgun-wielding, take-no-nonsense woman who crushed on Raylan back in her youth; and much more.
Josh and Antonio talk about all of these characters and several others, not to mention the show's first season in its entirety, in their look back on season one. You have 24 hours to finish the podcast, or else.
Get your JUSTIFIED questions to Josh and Antonio on Twitter, or by using the feedback form at postshowrecaps.com/feedback.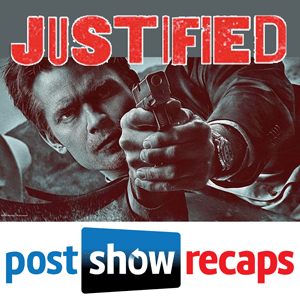 Subscribe to Post Show Recaps