Are you "aplexed" by the latest episode of JUSTIFIED? Sit back and let us explain it to you.
Josh Wigler (@roundhoward) and Antonio Mazzaro (@acmazzaro) team together, Deputy U.S. Marshal Raylan Givens and Constable Bob Sweeney style, to talk about the latest episode of JUSTIFIED, called "Sounding." In the episode, Ava Crowder finally takes matters into her own hands, forcing Raylan to call upon his old buddy Bob for help — and Bob isn't the only familiar face to resurface, either.
While Raylan chases down Ava, Boyd chases down Ava's uncle, a LOST figure in Harlan history, for help in the pursuit of Avery Markham's money. Speaking of Markham, his goons are forced to take drastic measures when several land owners suddenly reject their advances, with horrible repercussions for at least one man.
Hop aboard the JUSTIFIED train and keep in mind that when you're strapped into this ride, you're agreeing to get Amtrak-ed. You can Amtrack us on Twitter @postshowrecaps, in the comments below, and using the Post Show Recaps feedback form.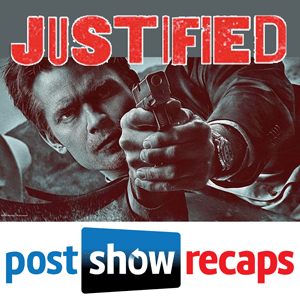 Justified returns with the 6th and final season Jan 20th on FX.[/caption]
Subscribe to Post Show Recaps