All aboard the Choo-Choo train!
In a special edition of the JUSTIFIED podcast here on Post Show Recaps, hosts Josh Wigler (@roundhoward) and Antonio Mazzaro (@acmazzaro) sit down with Duke Davis Roberts (@DukeUnchained), the actor who plays — er, played — Tiger Hawk Security muscle man Choo-Choo on season six of the FX series.
Duke reveals everything you could possibly want to know about Choo-Choo, including what the character was like in his original incarnation and the changes that were made on-set to make him the curiosity we know and love today, stories about interacting with Timothy Olyphant, Garrett Dillahunt and Sam Elliott, his theories for how the show is going to end (he doesn't know spoilers), and his musings on several other television shows like BREAKING BAD and GAME OF THRONES. Plus, find out what Duke is up to now, from his web series Dungeons and Shit to his ambitious, superheroic 10-year plan.
Leave your thoughts on the Choo-Choo interview in the comments section below, through our feedback form, or by hitting us up on Twitter.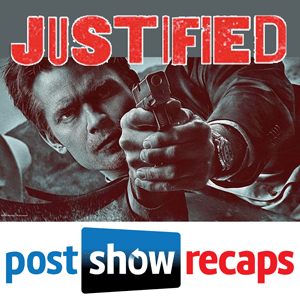 Justified returns with the 6th and final season Jan 20th on FX.[/caption]
Subscribe to Post Show Recaps