This week's JUSTIFIED podcast is brought to you by LM Consolidated. Check your cell phones at the door, and be mindful of splinters!
Josh Wigler (@roundhoward) and Antonio Mazzaro (@acmazzaro) field the latest episode of the FX drama's final season, "The Trash and the Snake." Thank Art Mullen for the awesome title, as the retired U.S. Marshal cautions Raylan Givens about pursuing the Big Bad Wolf better known as cannabis kingpin Avery Markham. Avery's designs on Harlan County come to light in the episode, and Raylan is fixing to stand in his way, even if it lands him in the weeds.
While Raylan sizes up his new nemesis, Ava Crowder meets a match of her own in Katherine Hale, the widow of the late, legendary Kentucky criminal Grady Hale. Her reasons for targeting Avery, the best lover she's ever had, boil to the surface, as do some other interesting quirks — including her suspicion of Ava's loyalty.
Elsewhere, Boyd Crowder and Wynn Duffy seek out a man with safe-cracking expertise, as they continue their effort to rob Avery Markham and Pizza Parlor of all their dough. See what I did there?
No questions or comments this week — sorry! We were in a bit of a rush! — but send them along for next week's show by tweeting at Josh, Antonio and @PostShowRecaps, or using the comments section below and the Post Show Recaps feedback form.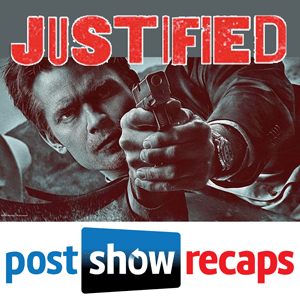 Justified returns with the 6th and final season Jan 20th on FX.[/caption]
Subscribe to Post Show Recaps