Things are heating up in Harlan County, as they are right here on Post Show Recaps with the latest episode of the JUSTIFIED podcast!
Josh Wigler (@roundhoward) and Antonio Mazzaro (@acmazzaro) dive deep into episode ten of the final season, titled "Trust," and let's just say that trust has been tested for several individuals. Will Ava remain loyal to Boyd? Will she return to Raylan? Or will she strike off on her own? Mrs. Crowder neé Randolph makes her choice and sticks to it in this episode, and it manifests in the form of a twist no one could've seen coming.
Meanwhile, the trust between several other colleagues gets strained: Wynn Duffy and Mike "Mikey" Cosmotopolis, for one, and Katherine Hale and Avery Markham for another. We also learn more about gunslinger Boon and his fascination with hats.
Let us know what you thought of this week's podcast by hitting us up in the comments section below, on Twitter @PostShowRecaps, or using our feedback form.
RELATED: Justified's Unexpected Social Commentary Propels the Show to TV's Elite Ranks
http://www.vulture.com/2015/03/tv-review-justified-final-season.html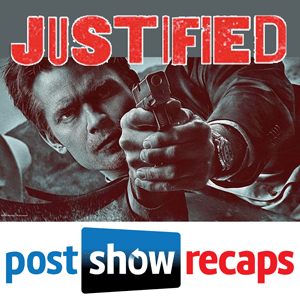 Justified returns with the 6th and final season Jan 20th on FX.[/caption]
Subscribe to Post Show Recaps