Seven o'clock Terri, eight o'clock Wigler, nine o'clock podcast! It's the AGENT CARTER premiere, on Post Show Recaps!
Join the GAME OF THRONES BOOK CLUB co-hosts Josh Wigler (@roundhoward) and Terri Schwartz (@terri_schwartz) as they get together to talk about AGENT CARTER, the newest television series set inside the Marvel Cinematic Universe. The show picks up after Captain America disappears at the end of World War II, and follows Peggy Carter (Hayley Atwell) as she mends her broken heart by way of super-spy shenanigans. Think ALIAS meets Marvel in the 1940s, and you have a good idea of what you're in store for.
Josh and Terri talk about their take on the AGENT CARTER premiere and Hayley Atwell's ownership of the title role, their assessment of the supporting characters, how they think CARTER will tie into the greater Marvel Cinematic Universe (if at all), and more.
Plus! Josh and Terri talk a little bit about AGENTS OF SHIELD's second season (if you're not caught up, prepare yourself for some spoilers),
Marvel's upcoming Netflix series DAREDEVIL, and the first trailer for Marvel's new movie ANT-MAN.
Post Show Recaps will return with more AGENT CARTER coverage once the first season finishes its run in February, right before the return of AGENTS OF SHIELD season two.
Tell us what you think of the show using our feedback form at postshowrecaps.com/feedback.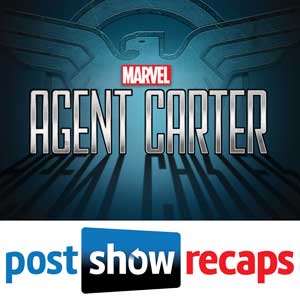 Be sure to subscribe to Post Show Recaps[/caption]
Subscribe to Post Show Recaps