Welcome to the Podcast Without Fear!
Actually, there's plenty of fear, as the notoriously craven Josh Wigler (@roundhoward) teams up with his longtime friend and comic book industry veteran Kevin Mahadeo (@kevmahadeo) to discuss DAREDEVIL, the Netflix and Marvel TV series debuting its entire first season on April 10.
In their first podcast together, Josh and Kevin talk about what to expect from DAREDEVIL, and their thoughts on blind attorney/vigilante Matt Murdock and his surrounding cast of characters. They even take a look back at the failed DAREDEVIL movie starring Ben Affleck, Jennifer Garner, Michael Clarke Duncan and Colin Farrell, to see what it might tell us about the new Netflix series, if anything.
It's the first of many DAREDEVIL podcasts here on Post Show Recaps, as Josh and Kevin plan to watch and discuss one episode of the series every day. Send along any thoughts or questions through our feedback form or in the comments section below, and stay tuned for our first podcast about the series premiere!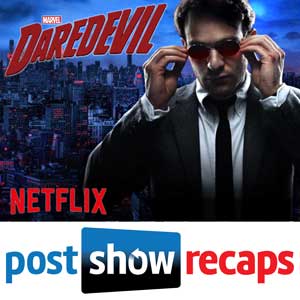 Subscribe to Post Show Recaps to stay on top of all things Daredevil.[/caption]
Subscribe to Post Show Recaps