After a quick visit to the William Henry Harrison Museum, Mike Bloom (@amikebloomtype) is joined by fellow PARKS & RECREATION super fan and Post Show Recaps host Antonio Mazzaro (@acmazzaro) to discuss the third and fourth episodes of the final season.
Much like the giant ball that once rolled down the streets of Indiana, this final season is on a roll. Though the last PARKS & REC podcast promised they would convene next after the series finale, Mike and Antonio were inspired by the night's latter episode "Leslie and Ron," arguably one of the series' best episodes. The show saw an end to the temporary Leslie vs. Ron story arc, culminating in a bottle episode that brought some gravity to the character of Ron Swanson and gave us some insight as to what happened in the 3 years not covered in the show.
Mike and Antonio use these episodes as a way to further discuss the series as a whole. They encounter topics such as the fine line Chris Pratt toes in his Andy Dwyer performance, where the show may go from here with its major conflict of the season already seemingly resolved, and literary analysis of Leslie's made-up lyrics to "We Didn't Start the Fire." So take a load off, crack open a $60 gallon of beef milk, and enjoy!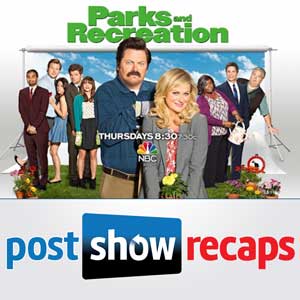 Be sure to subscribe to Post Show Recaps[/caption]
Subscribe to Post Show Recaps