Ninjas, ATTACK! It's time to talk about the final season premiere of PARKS & RECREATION! Josh Wigler (@roundhoward) and Mike Bloom (@amikebloomtype) cast their Tricia Tanaka troubles aside to sit down and discuss PARKS & REC, one of their favorite sitcoms, starring one of the greatest casts on television, from Amy Poehler to Chris Pratt and beyond.
The final season takes place in the not-too-distant, actually-kind-of-awkwardly-close future world of 2017, where Gryzzl technology lines the streets of Pawnee, Andy Dwyer has his own super awesome musical explosion show, Tom Haverford is his own self-made mogul, Ben Wyatt is the town's newest Man of the Year, and Leslie Knope's final shot at creating a national park in Indiana looms — assuming Ron Swanson doesn't stop her first.
During the podcast, Josh and Mike talk about the two-part premiere and the blockbuster returns of familiar faces like Jon Hamm, Jeremy Jamm, and Tammy Two. They also talk about their favorite characters, past plots that didn't work so well, cameos they hope to see in the final season, why it should be very easy for PARKS & REC to end on a satisfying and uplifting note, and much more.
Josh and Mike will get back together to talk about PARKS & REC after the series finale. Until then, grab some shrimp-wrapped bacon and/or a plate of waffles, and enjoy the show!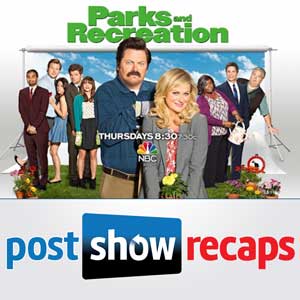 Be sure to subscribe to Post Show Recaps[/caption]
Subscribe to Post Show Recaps