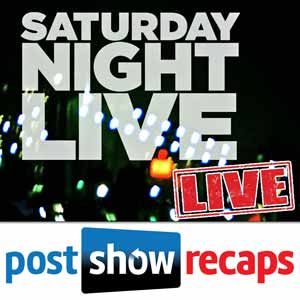 Subscribe to our SNL Recap Podcast[/caption]
Subscribe: SNL Podcast in iTunes  |  SNL Podcast RSS Feed
Rich Tackenberg is joined by Rob Has a Podcast and Post Show Recaps co-host Mike Bloom to cover the last SNL episode of 2014. Both Rich and Mike agree that the show proved a solid outing with Amy Adams, much like past cohosts Cameron Diaz and Woody Harrelson, being able to blend in with the rest of the ensemble.
The cold open threw an immediate curveball when Taran Killam's always-stellar Sam Smith impression cut to a surprise appearance from Dr. Evil about the Sony/North Korea controversy. While Mike and Rich thought there may have been some clunkers and occasional pandering to the character, it was an overall enjoyable experience. They also ponder the process production went through to get Mike Myers to do this guest spot on the show, and Rich correctly predicted Myers would not show up for the goodnights.

Rich was very entertained to see Kristin Wiig's appearance during Amy Adams' monologue. While Mike agreed that the monologue in general was much more cohesive than in the past, he was not a huge fan of Wiig's appearance, attributing it to some Wiig fatigue he experienced from her tenure on the show. They both agree that Wiig's monologue crashing here was better than both the Bill Hader episode from earlier this season and when she first appeared with Adams in 2008.

Mike was a big fan of the "Asian American Girl Doll" sketch, connecting it to "The Dudleys" sketch from the Woody Harrelson episode and admiring SNL for tackling the political correctness issue that seemed to pervade American culture this year. He enjoyed in particular the performances from the child actors, Cecily Strong's narrator, and Vanessa Bayer in what would be her only appearance that night. Rich agreed that he liked the idea, but felt it didn't take off anywhere and had some clunky lines here and there.

With the "Tenderfield Christmas 2014" Youtube video (apparently based off an actual video), both men were in agreement that this sketch had legs, but failed to get off the ground. Rich in particular thought that they muddled SNL "closer" Kate McKinnon by bringing in the story about Kenan's character. Rich then posited that these Youtube sketches would work best as pretaped sketches to utilize editing techniques; Mike agreed and threw out the idea that the Good Neighbor boys would do well with that style.
Mike and Rich, both avid Serial listeners, absolutely loved the Serial parody, though Rich acknowledges it has not been the favorite of a lot of viewers who never listened to the podcast. The two talk about the extraordinary impressions of everyone in the sketch, the ability to put video to an audio medium without being distracting, and the close mapping to the podcast itself. However, they felt the show didn't really have anything to say about Serial, instead just choosing to mirror the format.

Rich was not a fan of the return of "Girlfriends Talk Show," the first time the sketch has come back this season. While Mike was happy to see the sketch change up the format a bit, he agrees that it did become formulaic after a while, and the appearances by One Direction were forced and awkward.

Much like the Tenderfield sketch, the "Office Christmas Party" sketch got off to a fun start, but didn't really go anywhere. While Rich tried to figure out what the writers were trying to say with this sketch, Mike said the sketch could have been improved by staying along the "mundane office party" string of jokes. Rich then theorized that the musical pretaped sketches haven't had a good hook since the Lonely Island days, "Do it My Twin Bed" being the lone exception.

Rich and Mike use Weekend Update as an opportunity to do a midseason analysis on the Jost/Che combo. Both agree that there seems to be a disconnect in styles–Mike compared Jost to Seth Myers and Che to Norm Macdonald–and that there have only been a few opportunities for the two of them to interact. In terms of correspondants, both really enjoyed the Bobby Moynihan/Kim Jong-un meta bit. Kenan Thompson's appearance as Willie had a funny concept and energetic delivery, but only a few actual funny lines. Both also loathed the Garth and Kat appearance, saying it is not enjoyable as a TV viewer and Michael Che provided no impact with his presence.

Both men were not a fan of "A Very Cuban Christmas." While there were some highlights, namely Kate McKinnon as swimmer Diana Nyed, they felt it was a very disjointed sketch and reminded them of what they used to cobble together for "Piers Morgan Live." Rich also points out that this is the second week in a row with Cuba Gooding, Jr. jokes.

Mike says that SNL is able to use the rewatchability of the Internet medium to its advantage in "A Magical Christmas." Mike and Rich enjoyed the sketch even more on a rewatch, having already known the twist that comes at the end. As Mike fawns over the first song the trio sang, Rich compliments both the trio of women for their performance, along with Bobby Moynihan for holding it together as a straight man in the scene. The two then talk about the possible new power duo of Bobby Moynihan and Kyle Mooney.

The last sketch of the night was "Whiskers R We," also last seen in the Charlize Theron episode last season. Both Mike and Rich applaud the performance of Kate McKinnon; Mike goes so far as to say her and Cecily Strong have usurped Will Forte's title as ruler of the 12:55 AM slot.

Before the goodnights, Rich and Mike talk briefly about two cut sketches that have come up online. The first, a parody of "Love Actually," had the charisma of Pete Davidson but lacked any sort of timing and didn't really pick up until about halfway through. The second, a Saturday morning toy commercial of the nativity scene, was much like the Serial sketch in that it was good in its specifics, but didn't have a point of view.


After the goodnights, Rich and Mike touch upon the idea mentioned in a recent Nerdist article that SNL has grown stronger, but not as an ensemble. Both agree to a certain extent, though some core groups are emerging (Kate McKinnon and Cecily Strong, Bobby Moynihan and Kyle Mooney, the female ensemble as a whole). The two then make some predictions for hosts in the first half of 2015. Among the names mentioned are Robert Downey Jr., Bruno Mars, Shailene Woodley, Elizabeth Banks, Channing Tatum, and Rebel Wilson.