Watch this LIVE Show on YouTube    |     RSVP for this LIVE Event
Subscribe: Sons of Anarchy Podcast in iTunes  |  Sons of Anarchy Podcast RSS Feed
Jax tells Abel that Wendy is really his Mom, Abel rats out Gemma to Jax about Tara's murder and Tig and Venus take the next step in their relationship in Season 7, Episode 10 of Sons of Anarchy: Faith and Despondency
Rob Cesternino (@robcesternino) and Josh Wigler (@roundhoward) recap episode 10 of the final season of Sons of Anarchy, "Faith & Despondency"
In this episode Rob and Josh discuss the following questions:
How will Jax react to the news that Abel revealed about Gemma being the one who killed Tara?
Will Jax confront Gemma about this directly?
Were the scenes between Tig and Venus some of the best that the show has ever done?
Did the Sons get a satisfying revenge against Moses after the murder of Bobby?
Will Jax and Wendy end up back together?
How bad have things gotten for Juice in the prison?
Who are the characters that will still be alive by the end of the Sons of Anarchy finale?
Join us again LIVE on Wednesday, November 19 at 10:30am ET | 7:30am PT for our recap of Episode 11 of the final season of Sons Of Anarchy.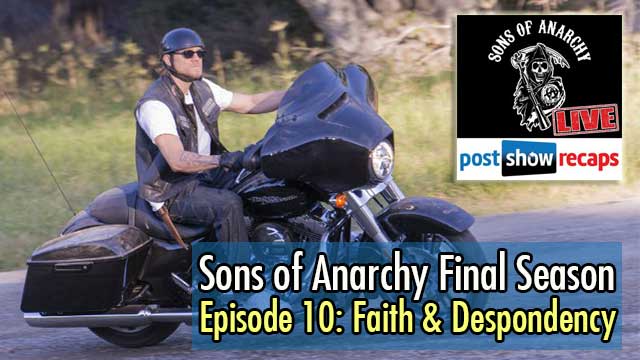 Subscribe to Post Show Recaps