Watch this LIVE Show on YouTube    |     RSVP for this LIVE Event
Listen to the Podcast;
Subscribe: Sons of Anarchy Podcast in iTunes  |  Sons of Anarchy Podcast RSS Feed
Rob Cesternino (@robcesternino) and Josh Wigler (@roundhoward) recap episode 11 of the final season of Sons of Anarchy, "Suits of Woe"
Jax deals with the news that Gemma killed Tara on the latest edition of our Sons Of Anarchy Season 7 Podcast
In this episode, Rob and Josh discuss the important issues from Sons of Anarchy Season 7, Episode 11 including:
How will Jax ultimately resolve the situation with Gemma?
Where is Gemma going now?
Will Jax die in the series finale?
What will be the fate of Juice after last night's show?
How has Unser not put all of this together yet?
How will the story end for Nero?  Will he ever make it to his farm?
Will Abel ever become a member of the Sons of Anarchy?
How will the situation with Indian Hills eventually work out?
What is the meaning of the episode's title "Suits of Woe"
What was up with that car chase at the end of the episode?
What did Rob think of last night's Anarchy Afterword?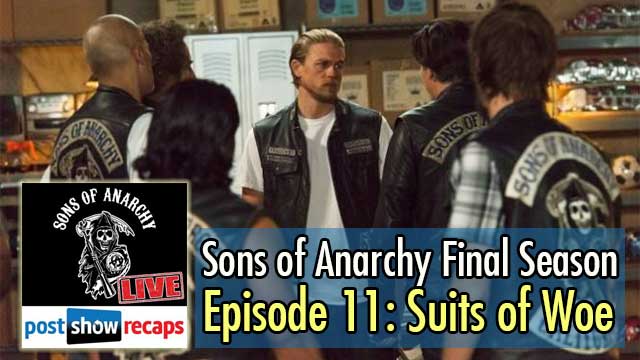 Subscribe to Post Show Recaps