Rob Cesternino (@robcesternino) and Josh Wigler (@roundhoward) recap episode 8 of the final season of Sons of Anarchy, "The Separation of Crows"
Show Notes
Things are getting worse and worse for Jax.
Bobby continues to loose body parts.
Jax's "go to" move of inviting people to a location then killing everyone did not work.
Do Jax's actions add up?
Will Jax be able to redeem himself?
Should Jax sacrifice himself for the good of SAMCRO?
Has Jax become everything his father hated?
Was killing Jury a complicated situation or straight up murder?
Was Jury the rat?
Who is the rat? Chuckie? Robocop? Tig? Another Son?
Is Bobby going to live?
Will August Marks return?
Will Rob's impression of Jax improve before the end the series?
Does Juice have the better than Bobby?
Does Tyler have the hardest job on the show right now?
Did Abel kill the birds?  Does he know about Gemma? If he does, will he do or say anything?
Did Courtney Love kill Kurt Cobain?
Why did Juice go to jail? Why does Juice want into "gen-pop"?
Who does Unser think killed Tara?
Will Unser be the one to break the news to Jax?  Who will?
Did John Teller kill himself?
Will Jax make some sort of suicide play?
Will Nero finally retire to the farm?
Will Courtney Love be in more episodes?
Will Bobby be released before the last episode?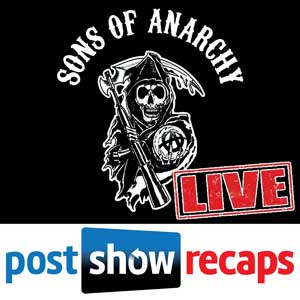 Subscribe to the SONS OF ANARCHY podcast feed in iTunes[/caption]
Subscribe: Sons of Anarchy Podcast in iTunes  |  Sons of Anarchy Podcast RSS Feed
Subscribe to Post Show Recaps