Watch the Show on YouTube   –   RSVP for the Event
Listen to the Podcast:

Rob Cesternino is joined by guest co-host, Antonio Mazzaro, to recap episode 3 of The Strain: "Gone Smooth".
Rob claims this is the most disturbing thing he has seen this week.  Antonio agrees and says it is terrifying.  After three weeks of The Strain, the show is really intense!  There is no place to hide.  Things are getting worse.  The rats are fleeing.  Human genitalia falling off.  Just when you think it can't get any worse or grosser, they are just outdoing themselves every week.
So we get to see Eichorst in the top of the episode and then we get to see the finished products, seeing a couple characters in their transformation.  Gabe, the rocker guy goes to urinate and something splashes in the toilet.  His penis falls off.  He just flushes it and moves on.  He is obviously turning into a vampire.  But if it were Rob, he would've fished it out and not flush the toilet and keep it as a souvenir.  Antonio says it's possible that these vampires may have rapid healing capability.
Antonio thinks this episode is better than the earlier episodes.  Rob says the show creeps him out and he has been itching even after the show.  It's creepy and terrifying.
However, Rob's one major gripe about the show is the ongoing custody battle between Eff and his ex-wife and the kids.  We get 5-10 minutes every week that is totally a different show.  And Antonio thinks enough time is already being spent on Eff.
Abraham is back in the mix this week.  Abraham is one character who has got a lot of answers and Rob thinks he has all the pieces. But Abraham tells Dr. Martinez that she's not ready for it yet.  Antonio thinks nobody is ready to handle it as of yet since they are kind of dancing around it. Being men of science, they want to explain it away, but there's no explaining this one.
The breaking point for Rob is when they shine the infrared light over Captain Doyle Stevens and a million worms are floating around.  Antonio's breaking point is seeing lots of dead people and the giant coffin.
Eichorst killed the guy who's the head of the airlines and the reason behind that remains a mystery for now.  Jim Kent, on the other hand, has a wife who has cancer and he's trying to get her into a treatment plan and he pretty much sold out the world to help out his wife.  In this episode, you would kind of feel bad for him compared to the past episodes when you'd really be thinking of him as a mole.  So far, he has let the coffin go.  But it also seems he has done this on more than one occasion.
It's going downhill fast for the fourth survivor, Ansel,.  He eats the blood in the steak marinating in the fridge and his wife sees him, which is just plain awkward.  Who knows where she will go from here?
Kevin Durand playing the role of Vasiliy  is on the trail of more rats.  Antonio thinks he really is a great and nice guy.  There seems to be intelligence and worldliness in him too and not just a pure killing machine.
Abraham is definitely on the case as he traded the Xbox 360 for the manifesto.  And the first name on the list is that of the guy with the daughter in the bathtub.
The hosts seems to be weirded out by Corey Stoll having to wear a wig in this show.  Rob raised a good point, though.  Corey might just turn into a vampire and his hair will eventually fall out and this makes sense.  But Antonio hopes that would not be the case.
Rob and Antonio take questions from the audience.  Antonio is actually surprised to see the full frontal.  Rob thinks FX is leaving nothing to chance.  This show certainly is crossing all kinds of comfort lines and zones.  It's brutal.
Seeing the captain's head crushed and deflated is disgusting but there is no North Sea moment in this episode or some heads cut off for that matter.  So this may not be the last time that we will be seeing the captain.
To cap it off, Antonio can't think what else would top off this episode but the show may just have something up its sleeve which is something to watch out for.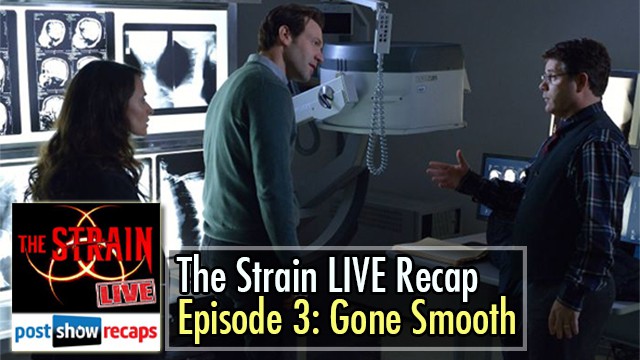 Subscribe to Post Show Recaps