Rob Cesternino and Josh Wigler recap The Walking Dead Season 4 Finale, entitled, "A". Join us for our live review immediately after the episode.  In this episode, Rob and Josh discuss the finale and look ahead to what is coming up for The Walking Dead in Season 5.
Show Topics:
Was The Walking Dead Season 4 finale satisfying after the build up of the last eight episodes?
Are the people at Terminus cannibals?
What was the meaning of the flashbacks to Hershel at the prison?
What was the inspiration for Rick to bite Joe's neck?
Did the show make it seem like Carl was going to get killed this episode?
What is going to happen when the show comes back in the fall?
What are the people at Terminus all doing in the control room?
Do we like the new old Rick that we see in this episode?
Why does the show want us to know about how Michonne's baby was killed?
Will Carol and Tyreese be the one's to save everybody from Terminus when the next season begins?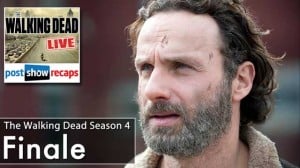 The Walking Dead Season 4 Finale Recap: A[/caption]
Game of Thrones Live:
Join Us every Sunday at 10:15 pm ET / 7:15 pm PT when Rob Cesternino and Josh Wigler recap each new episode of HBO's Game Of Thrones LIVE.
Subscribe to Post Show Recaps