WARNING: Spoilers from the WALKING DEAD comic books, and potentially TV show, are ahead!
Welcome to the first ever WALKING DEAD BOOK CLUB podcast! This is the place to talk about the story of Walking Dead from the perspective of people who have also read the Robert Kirkman and Charlie Adlard comics on which the show is based.
In the premiere episode, hosts Josh Wigler (@roundhoward) and Jessica Liese (@HaymakerHattie) catch up on Jess' take on the series, before running down all the events of "No Way Out," the action-packed midseason premiere. They talk about what happened to Jessie's family, the new adversities facing Carl, the showdown between the Alexandrians and the zombies, and their predictions for what's coming up when Negan enters the scene.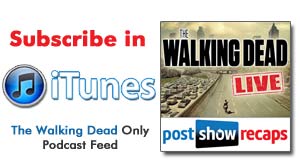 Subscribe to our THE WALKING DEAD only audio-podcast feed on iTunes[/caption]
Subscribe: Walking Dead Podcast in iTunes | Walking Dead Podcast RSS Feed