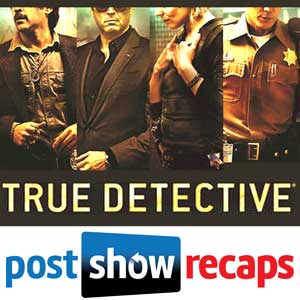 Subscribe to the True Detective Podcast on iTunes[/caption]
Josh Wigler (@roundhoward) returns this week and finds himself in an uncomfortable stare down with Antonio Mazzaro (@acmazzaro) and Jeremiah Panhorst (@jpanhorst)… because they need to talk.
In this week's podcast:
Clean Face, Dirty Past: Ray finds out that cleaning up his appearance does not hide the ugly acts he has done.
True Detective is a deadly game…unless played with NERF guns: Teague Dixon may be dead, but his spirit is still alive and well.
Who is Paul's daddy and what does he do?: As Paul gets ready for fatherhood, the guys discuss Paul's own father, and how his absence affects who Paul is today.
The Way of the Gangster: Frank tries to justify all of his actions. Will the ends justify the means when all is said and done?
By Invitation Only: What steps will Ani take to get back onto this case, and what leads can she tackle that Ray and Paul cannot?
Josh, Antonio and Jeremiah also touch on the Chessani family, Pitlor's condition after a visit from Ray, and the previews for next weeks episode. Plus, they answer YOUR questions. As always, you can discuss the show in the comments section below, or leave us your comments and theories at http://postshowrecaps.com/feedback/.
Special Thanks to Justin Holcolmb for writing this week's episode recap!
Subscribe to the Podcast: