Rob Cesternino (@RobCesternino) and Josh Wigler (@RoundHoward) recap the Walking Dead Season 4, Episode 11: Claimed. Join the discussion to talk about everything that happened in tonight's episode.
On this episode Rob and Josh try to discover the following questions and much more:
Just who is Abraham and what is he up to with Eugene?
How come Glenn didn't have any follow-up questions for Eugene about his cure for the Zombie virus?
Was Glenn guilty of some very questionable decision making?
What went down at the house that Carl and Michonne were exploring?  How did all those people die?  What was with the painting that Carl gave to Michonne?
How come everybody comes to the house that Rick is staying in?
How many of the guys that invaded the house died?  Did any of them turn in to Walkers?
How come Rick never changes his clothes?
How do people know which was to go to get to Terminus?
Is Michonne lactose intolerant or a vegan?  Could this be a reason that she prefers Crazy Cheese to the genuine article?
Is Abraham's girlfriend, Rosita, dressed appropriately for the Zombie Apocalypse?
Did Eugene really act like the smartest person around when the Zombies came strolling out of the cornfield?
Is Rick Grimes shaving his chest during the Zombie Apocalypse?
What will happen next week on The Walking Dead?
We hope you enjoy the show almost as much as everybody seems to enjoy Rick's bed.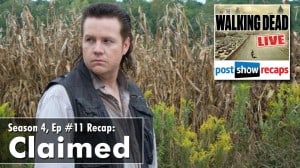 The Walking Dead Season 4, Episode 11 Recap: Claimed[/caption]