Get in the back seat and let us drive straight into Ryan Phillippe as we launch the very first episode of a new Post Show Recaps podcast series!
Josh Wigler (@roundhoward) and his wife Emily Fox (@emelette), the team behind the 50 SHADES OF GREY podcast, premiere the first installment of DATE NIGHT, where they get together to eat dinner and chew into some of their favorite movies. Up first: CRUEL INTENTIONS, the 1999 movie famous in the hearts and minds of Sarah Michelle Gellar and Selma Blair shippers.
In the inaugural podcast, Josh and Emily reveal why CRUEL INTENTIONS hits close to home for both of them, what they think of the chemistry between Ryan Phillippe and Reese Witherspoon, the glorious soundtrack, the ridiculous ending, and all of the over-the-top sexual shenanigans in between.
Let them know what you think of the podcast in the comments below or on Twitter, and check back in two weeks for another new podcast!Josh Wigler and Emily Fox, the team behind the 50 SHADES OF GREY podcast, launch a new series called DATE NIGHT, starting with CRUEL INTENTIONS.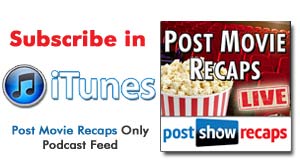 Subscribe to Post Show Recaps