Do you trust me? If so, there's a 51% chance you're going to love this week's JUSTIFIED podcast.
Josh Wigler (@roundhoward) and Antonio Mazzaro (@acmazzaro) recap the latest episode of JUSTIFIED, "The Hunt." In the episode, Boyd and Ava Crowder finally address the elephant in the room — or "the mole," as it were — and the outcome's not exactly cut and dry. Meanwhile, Raylan Givens deals with an elephant of his own, as Winona and baby Willa arrive in Kentucky for a quick visit, ending with some very good news for our favorite U.S. Deputy Marshal — even if it's not necessarily going to last.
Listen in on what Josh and Antonio think of this week's Harlan hijinks, including the tremendous misadventures of Ty Walker, and let us know what you think by hitting us up in the comments section below, through our feedback form, and @PostShowRecaps on Twitter.
And if you haven't checked it out yet, make sure to listen to Josh and Antonio's interview with Choo-Choo himself, actor Duke Davis Roberts!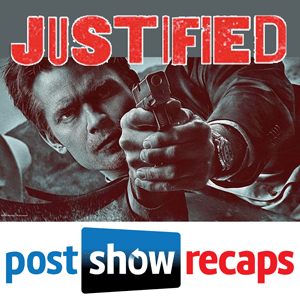 Justified returns with the 6th and final season Jan 20th on FX.[/caption]
Subscribe to Post Show Recaps